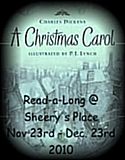 The wonderful Sheery over at
Sheery's Place
is hosting her first ever read-a-long, of Charles Dickens' A Christmas Carol. I have decided to sign up to participate. This will be my first read-a-long experience and I'm really excited. I've had this book for years now and have not yet started to read it. Christmas time is the perfect time to start :) If you are interested in joining along, make sure you visit
Sheery's Place
and sign up with the Mr. Linky.
Now onto the next topic of this post. Graduate schools. I am so stressed. I graduate from Buffalo State College in May with a B.A. in French Language and Literature. I definitely want to get a Masters degree, and possibly even a PhD. (stay in school as long as possible because you won't have to enter the real world....that's my reasoning anyway....) I don't need to start in the Fall. In fact I'll probably wait until next Spring or the following Autumn to begin grad school. I do after all need money. And I think my brain needs a break. I need to start seriously thinking of where to go. I LOVE and ADORE the program at Portland State (in Oregon) and I've wanted to visit the city for a long time. My boyfriend has expressed a wish to live there for a bit many times. So it seems perfect. I'm also looking at other schools around the country. I just feel really bad leaving my mom and my dog at home. And I have no idea how to do the whole "moving across the country" thing.
I also need to take those darned GREs. And there is Math on them, which I haven't taken since my Freshman year at college.
Have you experienced future grad school stress?? I seriously feel like I'm going crazy.